Important and useful links
On this page we show some useful links that you can consult for background on the Davis approaches and other methods. Click on one of the logos to look at the website. By clicking on one of the buttons in the left hand column you can return to the Dyslexia Correction website.
Davis Dyslexia links
Davis Dyslexia Website

The Davis Dyslexia Facilitors Association in the UK

Please note that the Davis Dyslexia Correction Programme, including Davis Symbol Mastery and Davis Orientation Counselling may only be provided by persons who are trained and licensed through Davis Dyslexia Association International and who show the following logo.

---
Davis Autism links

---
Other dyslexia links
British Dyslexia Association

Dyslexia Action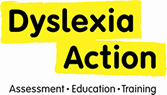 ---
Other Autism Links
National Autistic Society

---
©2001 Dyslexia Correction Centre, All rights reserved.